2014 Grand Marshal:
Jerry Ryan

Bio – Jerry Ryan, MS, CRCJerry Ryan holds a Masters in Counseling from Portland State University and was awarded the twwo highest honors given to a student - University Commendation Award and University Award for Excellence. He is an Army veteran serving from 1976-1980. His background includes working on surgical teams at Walter Reed Army Medical Center, OHSU and St. Vincent Hospital. Jerry holds a PhD in Natural Health and has years of training in bodybuilding and martial arts. He has served as the President of the Oregon Chapter of the Paralyzed Veterans of America and President of the Oregon City Rotary Club Foundation. Jerry has worked with the Clackamas County Veterans' Office, the Clackamas County Disability Advisory Board, City of Oregon City, City of Portland, and the Oregon City Chamber of Commerce on a variety of issues that impact the disabled, veteran, and senior communities. Jerry is currently a mental health therapist and Certified Rehabilitation Counselor in private practice and also provides free counseling for clients at the Clackamas Volunteers In Medicine Founders' Clinic. Jerry runs an Equine-Facilitated Psychotherapy program at Sycamore Lane Therapeutic Riding Center for individuals with post-traumatic stress disorder (PTSD) and other mental health disorders.

2014 Junior Grand Marshal:
Maurie Harbick

Maurie Harbick is a Sophomore at Oregon City High School and was elected Region 7 Rep. for the National Association of Student Councils. He will represent Oregon, Washington, California, Hawaii, Alaska, Nevada, Utah, Montana and Idaho at the National level 3 times a year and will serve for the next 2 years. No Oregon student has ever been elected to this position.
2014 Theme:
Celebrate Service
The Teddy Bear Parade one of
Oregon
City
's signature events. It's a one-hour processional over a 1.10 Mile route. The Teddy Bear Parade has been a community highlight for
Oregon
City
and the entire county for the past 12 years. The Parade ends at the Pioneer Family Festival at
Clackamette
Park
.
The Teddy Bear Parade gathers new teddy
bears/stuffed animals that are given to law enforcement agencies, fire departments, emergency rooms, children's hospitals and women's shelters in Clackamas County. These stuffed animals are then distributed to children through out our community who need comfort in times of crisis. The parade is also a time for us to honor our community's emergency personnel who protect the entire community.
Parade Questions:
info@pioneerfamilyfestival.com
Text: Rocky Smith (503) 679-4464
Call: Linda Kidd (503) 320-3440
17th Annual Teddy Bear Parade
Saturday, May 3rd, 2014
Check-in starts at 8:00 a.m.
Parade begins at 10:30 a.m. SHARP!
Parking and Drop-off:
We recommend that participants that are not driving vehicles in the parade park or drop-off participants on the bluff and take the elevator down to the staging area. Parking will be almost impossible Downtown Oregon City.
Check-in Procedure and Staging Map:
Check-In Procedure:
Please have your group plan to meet you at your assigned staging area.

A staging manager will be available to direct individuals to your location if they are lost.

Assign ONE representative of your group to check-in at the

check-in booth

at Liberty Plaza between 8th and 9th on Main Street.

You will receive your participant ribbons at this booth.

When you return to your group, distribute ribbons to each participant to ensure each member of your group has a participant ribbon.

Enjoy the Parade!
Click PARADE STAGING MAP to Enlarge:
Click PARADE ROUTE MAP to Enlarge: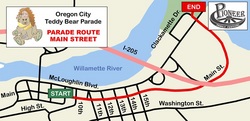 Parade Route and Bear Collection Info:
The parade is approximately 1.10 miles, is flat and easily traveled. The parade will begin at 10th and Main Street and continue down Main Street behind the Oregon City Shopping Center into Clackamette Park. All stuffed animals will be collected at the Park on the Main Stage. The Parade begins at 10th and Main Street and winds down Main Street and into Clackamette Park, where it begins the festivities at the Pioneer Family Festival.
Click PARADE ROUTE MAP (Clackamette Park) to Enlarge:
Teddy bear collection:
will take place at the Main Stage inside Clackamette Park. The entire parade will enter Clackamette Park through the Main Gate, past the Skate Park going straight towards the Carnival and Boat Ramp Area. When the parade passes the restrooms it will take a left through the park road where the yellow stanchions are normally. The Parade will go behind the last row of vendors along the Clackamas River side of the park, heading west through the vendor parking area. The Parade will continue to the end of the Vendors and take a left through the white gate. This will take the parade past the front of the stage area where Teddy Bear will be collected. Parade will then disband in the grass beyond the pony rides. There will be Parade Disband signs to designate the area. After the parade disbands, participant vehicles may go through the white gate on the RV Park side and take a left to head back towards the main gate of the Park.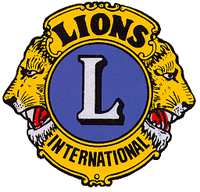 Oregon City Lions Club
Steps up to present the 2014 Parade!
It's not to late for you to join the Teddy Bear Parade! Just download the application below, fill it out and then bring your application with fee to Oregonians Credit Union in Oregon City.
You can also drop off donated teddy bears to this location.
Oregonians Credit Union
19360 S Molalla Ave.
Suite 110
Oregon City, OR 97045
Monday - Thursday: 9am - 5pm
Fridays open until 6pm
2014 Parade Application
2014 PARADE Line-Up:
(Tenative Line-up Posted 4/29/14 Subject to change)
A-1 OCPD Pace Car
A-2 JROTC
A-3 ParadeBanner/Oregonians Credit Union/Lions' Club
B-1 Mayor Doug Neeley
B-2 Grand Marshal
B-3 Jr. Grand Marshal
B-4 O.C.H.S. Band
C-1 Clackamas Fire
C-2 Brent Barton
C-3 Optimist Club

D-1 Oaky Doaks Square Dance
D-2 Porsche Club
D-3 Mom's Club
D-4 Gardiner M.S. Band
E-1 Cub Scouts 470
E-2 West Linn Old Time Fair Court
E-3 Grocery Outlet
E-4 Maralee's Dance
E-5 Girl Scouts

F-1 Friends of Mark Meek
F-2 Trick and Racey Car Club

G-1 Ogden M.S. Band
G-2 Fill-A-Stocking, Fill-A-Heart
G-3 Sycamore Lane
G-4 Rotary
H-1 Confederated Tribes of Grand Ronde
H-2 Clackamas Volunteers in Medicine
H-3 Molalla Buckaroo
H-4 Paideia Classical Christian School
H-5 B&B Leasing
H-6 OCPD final car